When Sarah Nold enrolled at the University of Kentucky, she didn't know what she wanted to major in. After a long process of narrowing down her options and eliminating programs that required additional chemistry courses, she landed on Family and Consumer Science Education (FCS Ed). She was drawn to the program's classes in human development, finance, and health and was excited to create "real-world educational" opportunities for her community. Unfortunately, she was met with skepticism from many people who did not understand the need for "home ec" in today's schools. In this interview, Sarah justifies the importance of family science education and explains how it has benefited her in her current career. She believes that "family and consumer science is not about becoming "Susie Homemaker;" it's about becoming the best version of yourself and learning how to succeed in the world around you."
Q. How did you choose your college?
Looking back on it, I can't remember the exact moment I decided to go to the University of Kentucky. I had applied to several other schools, including two private colleges, and I was accepted to all of them. I think what it came down to was the cost. I was very uncertain at that point about what I wanted to pursue, so choosing the college with the lowest tuition made the most sense.
My mom was adamant that I get through college with as little debt as possible, so I had worked all through high school at our family business, saving every penny of my earnings to use toward my tuition. I only took out a loan my freshman year and continued working both at home and at school during all four years of college. I graduated with zero debt and my loan paid off.
Q. How did you discover your major and decide it was something you wished to pursue?
Toward the end of my freshman year, I decided to sit down and decide on a major. I really struggled with the decision. I was aware of all of the possibilities and knew I could conquer any of them, but which did I WANT to pursue? I realized I would be forced to look deep within myself and recognize what was important to not only my future, but the future of our ever-changing world.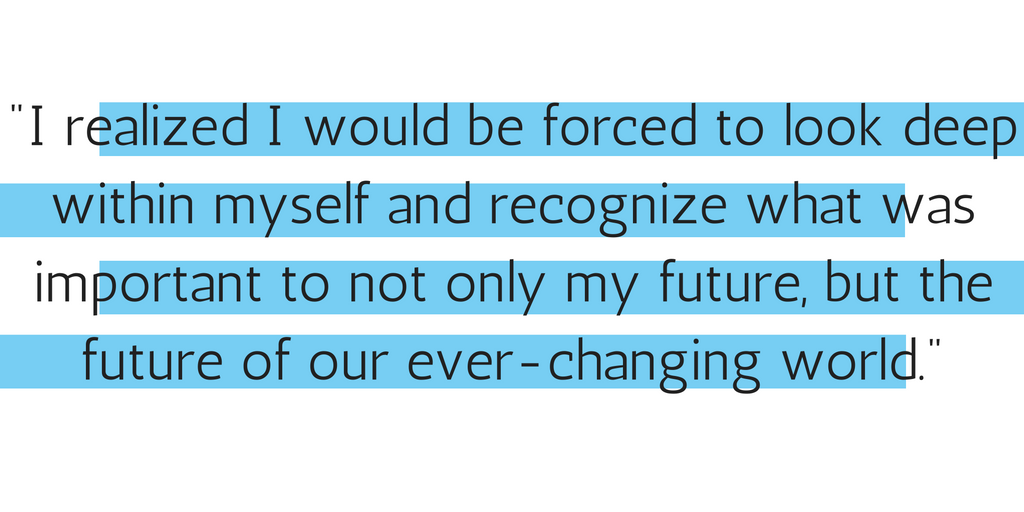 The first step I took was a trip to the registrar's office, where they had printouts of descriptions and course requirements for every major that the university offered. Talk about overwhelming! From there, I collected all of the "major sheets" that sparked my interest, even if it was just a little bit. Then, I organized these sheets by college (there are 12 colleges within the University of Kentucky).
For my next step, I eliminated any major that required more chemistry courses. At that point in my college career, I had only taken a basic chemistry course, but after suffering through that anxiety, I knew I would be miserable taking another.
After eliminating several majors, I was now down to a small group. Almost all of them were in the College of Agriculture's School of Human Environmental Sciences (HES). HES includes departments like Dietetics & Human Nutrition, Retailing and Tourism Management, and Family & Consumer Sciences (FCS).
I can't pinpoint why this school interested me so much, but I think it was because its majors were not only relatable to my life and my future, but everyone else's too. We all have bodies that we have to feed and clothe; we all consume products and have to make financial decisions; and we all have families, friends, relationships, or—at the very least—basic interactions with other human beings. These are some of the core aspects of being a person, something none of us can escape. This realization ignited my passion, and I decided to pursue a major in Family and Consumer Sciences Education (FCS Ed).
Q. What classes were required for your major?
One thing that attracted me to the program was the variety of courses offered. Of course, there were your basics (English, biology, history, psychology, philosophy, sociology, etc.), but as I progressed into my degree, I was able to take pieces from all of these courses and expand on their fundamental ideas in my core classes. Not only was I able to learn about education, finance, and human development, I also got to learn things like what gluten really is and how to safely cook a chicken. Additionally, I got to go out into the world to observe and experience real things and real people.
Q. How did your participation in the program affect your life outside of the classroom?
While the faculty and other students in FCS Ed were extremely passionate and supportive, people outside of this group weren't always positive. I had chosen a career path with a very negative reputation in today's society: "home ec." When I told people what I wanted to do for a living, they either had no idea what it was or they couldn't understand why it was still relatable in the modern world. To deal with both of these types of interactions, I had to recognize their concerns.
Family and consumer science education is disappearing from schools and communities. Many students that do take these courses in school don't value their importance and consider them "fluff" classes. Our education system puts more emphasis on learning calculus than it does on learning how to manage finances or how the food we eat affects our health. No offense to the math and science teachers out there, but the things that are taught in FCS classes are situations every person will deal with throughout their life, not just during their academic career. So why aren't we making this a priority? Family and consumer science is not about becoming "Susie Homemaker;" it's about becoming the best version of yourself and learning how to succeed in the world around you.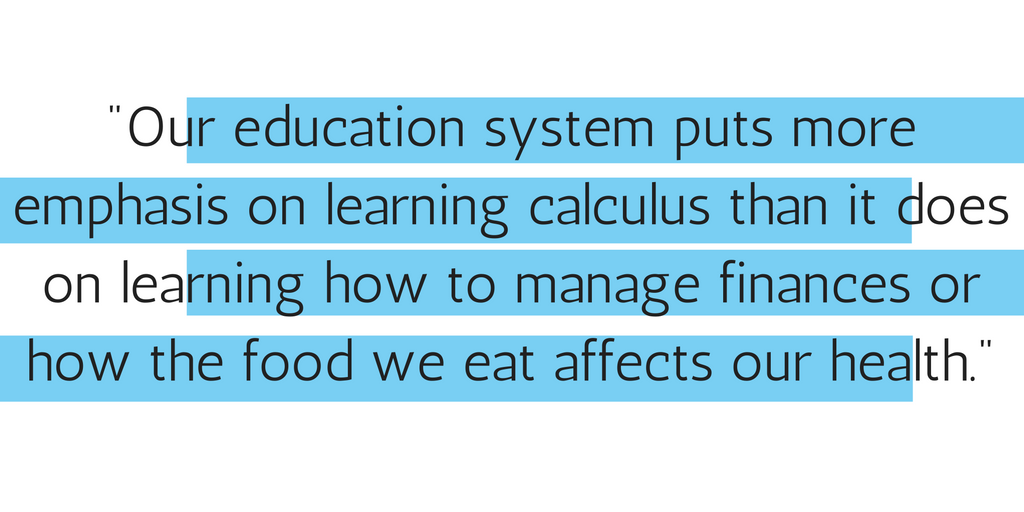 Q. Why is it important for the public to know that this degree is an option for students?
First, I think it is important to define what it is. According to the Association of Family and Consumer Sciences (AAFCS), FCS is "the comprehensive body of skills, research, and knowledge that helps people make informed decisions about their well being, relationships, and resources to achieve optimal quality of life. The field represents many areas, including human development, personal and family finance, housing and interior design, food science, nutrition, and wellness, textiles and apparel, and consumer issues."
The University of Kentucky states that its degree in family and consumer science education prepares you for "career opportunities in a multitude of settings which include: formal classroom teaching in a middle school or high school setting; adult education; teaching students with special needs; working as a cooperative extension service agent; employment as a family and consumer sciences professional for a company that makes and sells consumer products. Plus, you may work in a variety of jobs from a community agency family life educator to a media development specialist in family and consumer sciences."
Q. Where are you currently working, and how does your college education affect the decisions you make in the workplace?
After graduation in 2011, I started working full-time at my family's business, The Plant Kingdom. We are a family-owned garden center in Louisville, KY. My parents started the business over 18 years ago, and even after their divorce, they continue to run it successfully.
The ways in which my college education affects my current career are endless. I use my background in education to help create learning experiences for our team and our customers. I use my background in merchandising to purchase important products that local families need to help create a beautiful home environment. And I use my background in family dynamics to relate to customers, team members, and my own family to solve problems and create solutions.
Q. If you could go back to college, would you choose a different educational path?
I believe no matter what educational path I would have chosen, it would have ultimately led me to the path I am currently on. When I think back again to why I chose the major I did, there is one thing that rings most important to me and that's a real-world education. I don't think I would have enjoyed an experience where I was stuck behind books or the computer screen all four years. This educational path allowed me to step out of my box and experience real-life scenarios and challenged me to stand up for a cause I believe in.