Growing up, Zoé Schroeder dreamed of volunteering for the Peace Corps, a government program that values cross-cultural exchange and assists with social and economic development projects abroad. Most volunteers complete three months of training before serving abroad for two years. Zoé was accepted to the program upon graduating from the University of Wisconsin-Madison in 2012. She was placed in Lesotho, a small, enclaved country in southern Africa, where she taught English. We caught up with Zoé to ask her about the Peace Corps application, the placement process, her term of service, and what she's doing now.
Q. Why did you decide to apply to the Peace Corps?
I've always been a person who loves to travel and experience different cultures. When I was 12, I met a girl in my neighborhood and we became close friends. Her mom had been a Peace Corps volunteer in Niger and used to talk to us about it. Her compassion, bravery, and amazing stories inspired me. She was the first person I met who had volunteered, and I thought it was so cool. I researched it for years and wanted to join at 18, but by then, you really had to have a college degree to be an acceptable candidate. So, I went to school knowing that I wanted to join the Peace Corps once I graduated. By the time I applied, I not only wanted to join, but also had acquired skills to make a contribution. It felt like the right step to take at that point in my life, and it was.
Q. What was the application period like?
The whole application process took about nine months for me. There were essays, references, background checks, and two interviews: one with my local campus recruiter and one with my regional recruiter. Then they made me rewrite my essay! Once my application was accepted, I also had to do thorough medical and dental checks, which take a long time. They notified me of my placement a few weeks after my application was turned in, and I left for Lesotho three months later.
I had no trouble balancing my application and my schoolwork. It is no different than applying for jobs during senior year. I know the application process was longer for some people and shorter for others, yet it is significantly different nowadays. When I applied, Peace Corps made the decision on where you would be placed. It has been like that since its inception, but a few years ago, it changed so that applicants could have a say in where they are placed.
Q. Were you nervous about your placement?
Oh, yes, I was incredibly nervous. My future completely depended on strangers making a decision for me based on my skills and the needs of the countries affiliated with Peace Corps. Yet, I was optimistic, and I had already decided not to have any expectations. That decision made my whole Peace Corps service a lot more pleasant.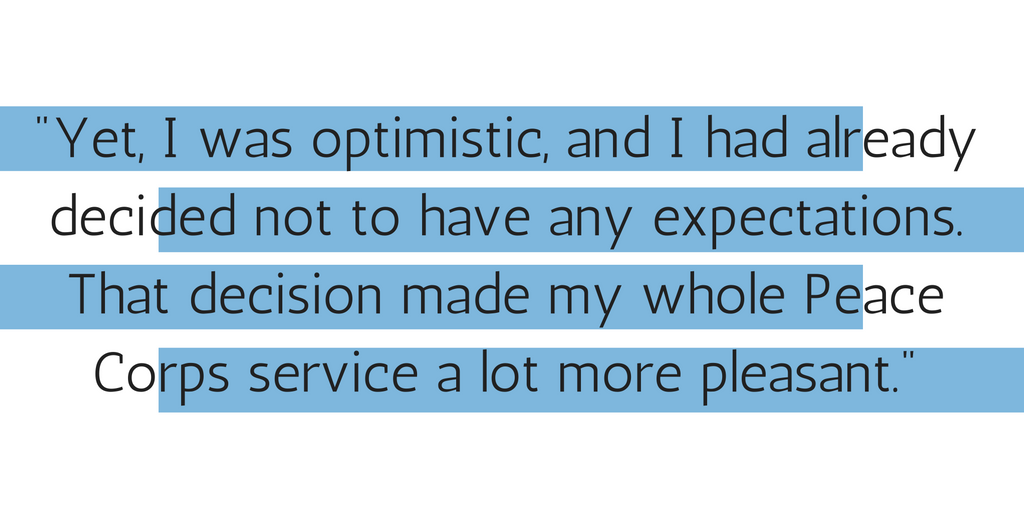 Q. Lesotho is a small country and not many North Americans know much about it, if they've heard of it at all. What was your community like?
My community was in the lowlands, close to the border with South Africa. It was also close to the main road, of which there is one in the country. There were about 400 people in my village, which sprawled all around a small mountain. A chief ran the village, and there was an elected council who helped him make decisions. Many men from my village worked in the diamond mines in South Africa while their wives and children stayed in Lesotho. Down the road from my village, there were a few Chinese-owned textile factories. They employed women from my village as well. Half of the village had electricity. There was one elementary school, where I worked, and the middle and high school was located in the neighboring village, about a 30-minute walk away. There were a few general shops and water pumps scattered around. The closest clinic and post office were in another village, about a 45-minute walk away. Since I lived close to the main road where there was good, reliable transportation, most of my community and I took the public taxis and buses to get around. The closest town with internet was 30 minutes away in a taxi. Because of this, some of the Peace Corps staff considered my community an "urban" placement. I also lived in the part of the village with electricity, and that made me an extremely lucky volunteer as most everyone else did not have that luxury.
Q. What did your day-to-day work involve?
I taught ESL to grades 5–7 at two elementary schools in my area. I also taught a life skills class, which mostly centered on HIV/AIDS education. At school, I prepared my lessons, taught classes, evaluated students, and made my own classroom materials. I also supervised each school's library during the lunch hour, which involved maintenance, guiding students, and managing the older students who were the elected librarians. Sometimes, I was a resource for other subjects and collaborated with teachers. After school, I ran a few clubs and prepared the next day's lessons.
Of course, there were many chores I did in my house throughout the day as well, such as tending to my garden and pumping water from the well. In my free time, I cooked challenging recipes, listened to podcasts, and read a lot of books.
Q. You speak English, French, and Spanish. Did you have trouble picking up Sesotho?
Peace Corps gave us a lot of language instruction. We had two months of training, and language was the focal point. I'm sure I was placed where I was partially because the team thought I would have no problem grasping Sesotho. But I did! It was very different from anything I had ever tried to learn. Yet, it is not a very complicated language, and the alphabet is the same as [ours]. Since my site was well connected to the road, and therefore also the capital and South Africa, many people in my village spoke English already. So, I became lazy and spoke mostly English in my village once my basic Sesotho conversation phrases ran out. However, I did manage to get a hold of some difficult pronunciation, including the famous "click" sound. I also cherished key phrases that I used in class often, like tulang, lulang fatse [which means] "be quiet, sit down."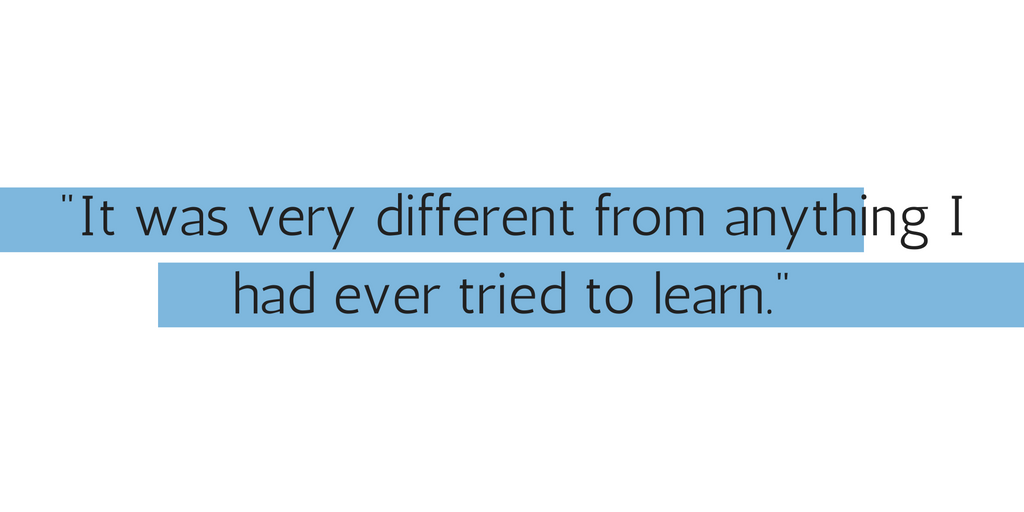 Q. Just a couple of months before your service term was over, there was a coup attempt in Lesotho. How did Peace Corps handle the situation? Were you afraid for your safety?
Yes, my service ended in November and we had to be evacuated from the country in September. But being "evacuated" from Lesotho just meant a drive over any border into South Africa. The whole situation was confusing, and no one seemed quite sure of the facts. But my Peace Corps supervisors called me one evening to say there was a lot of uncertainty in the capital city and a possibility of oncoming violence. So, we were instructed to follow our emergency action plan, which had been intensively outlined for us during training. All the volunteers in my region met up at a designated area the next day, and a day later staff drove us in Peace Corps vehicles to a hotel over the border. Although nothing had escalated, staff was afraid of swift action and borders closing. We ended up staying in South Africa for about three weeks until the U.S. Embassy in Lesotho assured us it was safe to return.
During that time, I was not afraid for my safety whatsoever. The events in the capital city were far from my village life. While we were out of the country, I called my host mom, who assured me that everything was per usual in my village. I was also very impressed with the cohesiveness and clear thinking on the part of the Peace Corps staff in Lesotho. They left nothing to chance and made it clear that our safety was their priority.
Q. What was your proudest achievement during your term of service?
I'll never forget the look one fifth grade student had when he heard me explain that Lesotho has one of the highest rates of adults living with HIV/AIDS in the world. I was speaking English, and most kids were too young to understand the gravity of what I was saying. But I could tell that he did. After school, he approached me about it, and we proceeded to have a long conversation about what that meant and what he could do about it. It was very sobering and yet such a triumph to have that level of understanding in a second language for an 11-year-old boy.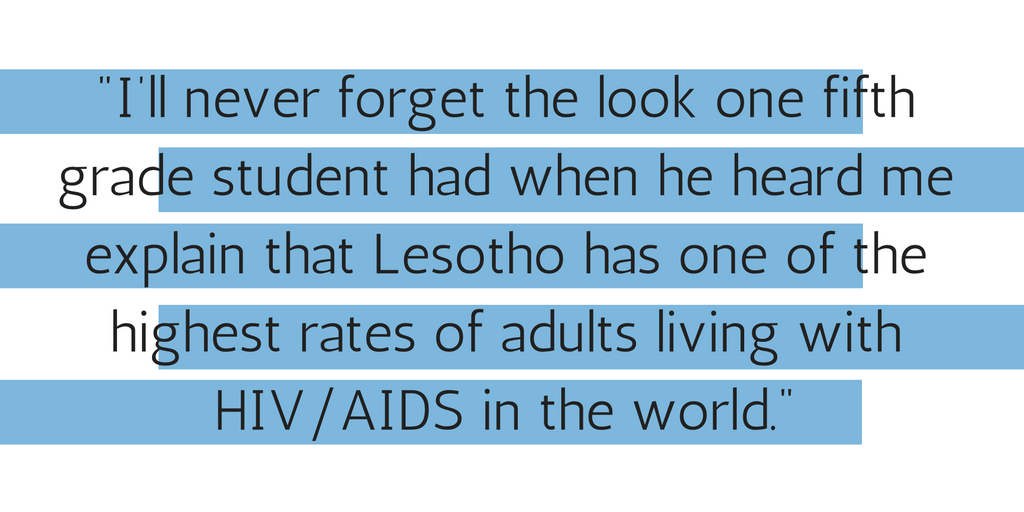 Q. What have you been up to since you've been back?
I taught ESL while in Lesotho and I wanted to get more experience in the classroom when I returned to Madison, WI. I substituted for a while, and then I got a job as a teacher's assistant in a Montessori school. I'm going on my second year working there, and I have learned a great deal. Last fall, I did a TED Talk in Madison about my Peace Corps service, which was an amazing opportunity. Currently, I am applying to graduate programs starting next fall for teaching ESL. My Peace Corps service had a greater impact on me than I expected; I knew it would change my life, but I didn't know it would also be the start of my career.